Haven't done one of these in a while...
I went to bed at 3am.
I woke up at 7:50am, intending to go to math class.
Yeah, that went over well. I then woke up at 9:15am.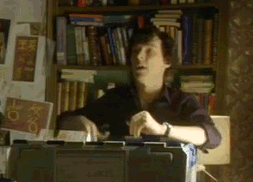 During writing class we watched part of the movie The Sting, but it was on VHS and the image would sometimes waver, giving all of us a headache.
Then on to Japanese class, where I proceeded to cuss kanji out.
Lunch time! I walked back up to the dorms and had some mashed potatoes and gravy I still had in my fridge from Thanksgiving.
Headed back down to campus for my creative writing class. Spent the time writing depressing stories.
Back up to the dorms.
Dinner!
Back to writing stories, but these are actually homework. Everything amuses me now
I should really study for- oh look feels.
Welp. Looks like I'm getting nothing done for the rest of today. Just the way I like it.
More Merlin when my friend comes back from class.